And Rave Reviews for Kat's Debut CD "Jazz Skat Gumbo"
"Ms Walker has swing in abundance, and warmth and good humor in her voice, plus the ability to sound as if she is in the room with you reaching out to get you on your feet as she sings. "
- John M. Peters, UK publication The Borderland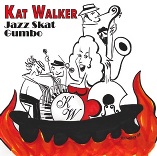 "Walker's voice is unusual in that it is not exactly pretty, but it is unique, accurate, and precise, not unlike that of Louis Armstrong's. Her interpretations satisfy the desire for the standard fare performed in a non-standard manner. This is beautifully funky, viral, infectious music."
- C. Michael Bailey, All About Jazz
"Kat is a vocal Diva in Jazz and with the great standards served up by a very professional and great group of musicians that makes this CD a feast for the trained ears in Jazz."
- Joost van Steen, Alphen Stad 105.4FM The Netherlands
"Walker's soft soothing voice beckons listeners back to the days of smoke filled coffee shops and the sounds of lighting flavored tobacco in an alleyway. This record creates a powerful sense of joy throughout, which allows a listener to leave behind the moment for the sweet caress of a trance all its own."
- J. Edward Sumerau, Metro Spirit weekly newspaper, Augusta, GA
"You can almost hear Kat smile when she comes in, her vocals are bouncing, fun and in the pocket. Her voice is whiskey soaked and like a fine weathered horn."
- Jeff Becker, Jazzsensibilities